"Our Caring You'll Remember"
Home Health Care by Nightingale in Peterborough City & County
Nightingale HOME MAINTENANCE INC is proud to have Nightingale Nursing Registry Ltd as its parent company. Since 1985, they have served the home health care needs of Peterborough City & County and the surrounding areas, 24 hours a day, 7 days week.
Home Health Care Services
Nightingale Nursing Registry's services are available to all ages. Their services include:
Assessments (Physical & Neurological)
Dialysis Treatments
Elderly Care
End of Life / Palliative Care
Health Monitoring
Meal Preparation
Medication Administration
Mental Health Services
Post-Surgical Care
Tube Feeding
Wound Management
---
Since 2004, the team at Nightingale Nursing Registry Ltd has been continuously given the Accreditation Canada Award for outstanding health care and the delivery of quality service. Whether you require care in your home, hospital, or institution, Nightingale is always just a call away.
With a caring staff of registered nurses and RPN's, patients truly value the care they receive. We invite you visit the Nightingale Nursing Registry website to arrange an appointment, or download their brochure for additional information.
Home Maintenance
For all your home maintenance, modification and renovation needs, call Nightingale Home Maintenance!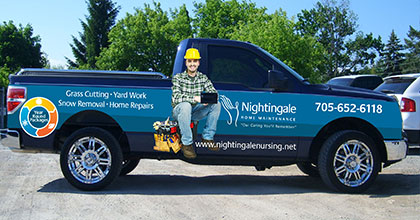 Main: 705-652-6118
Toll Free: 1-800-561-5662