"Our Caring You'll Remember"
Property Services for Peterborough City & County
Nightingale Home Maintenance Inc provides property services for lawn care, outdoor services, renovations, as well as snow plowing and removal. Services are available throughout the city of Peterborough and Peterborough County.
Save up to 25%
When you sign up for a service package from Nightingale Home Maintenance, you can expect to save up to 25% when compared to purchasing like services à la carte.
Your Satisfaction – Always Guaranteed
At Nightingale Home Maintenance, quality service is always guaranteed! To schedule a consultation regarding your property needs, please call Nightingale today!
2 Free Hours of Maintenance Services
All property maintenance packages include 2 free hours of home maintenance services (labour only). We will purchase all the supplies necessary to complete your home maintenance project. Any extra items will be listed on your next invoice. It's that easy!
Home & Cottage Property Watch
Nightingale offers an extensive "home and cottage watch" program. If you are part of a cottage association, we offer discounts for groups of 6 cottages and more. Our team will help protect your property from damage and promptly notify you if a problem arises. This service can lower your insurance costs and includes:
On-Site Regular Inspections
Temperature & Water Security Alarm Installations
24/7 Emergency Response
Monitoring of Home Alarms
Nightingale Home Maintenance is fully-licensed, bonded, and insured.
Property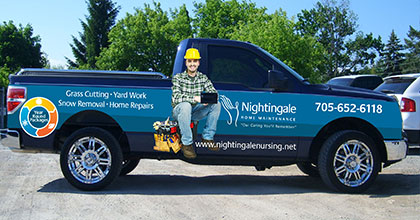 Main: 705-652-6118
Toll Free: 1-800-561-5662